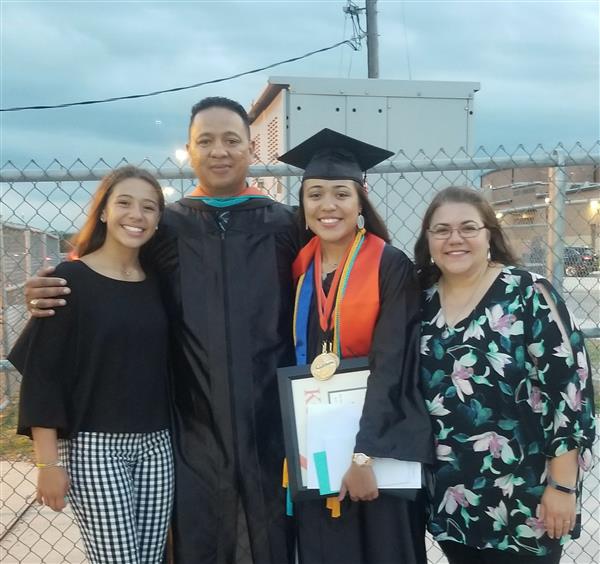 Phone:
Email:
Degrees and Certifications:
Mrs.

Rebecca Robinson

Email: rlrobinson@kcisd.net

Welcome back! I know the last several months have been pretty crazy for everyone - students, teachers, and parents! Whether you will be returning to school for face-to-face instruction, or staying at home for asynchronous instruction, please know that I am excited to have you in my 6th grade ELAR class :)

A little bit about me...

I was born and raised here in Karnes City. I graduated from KCHS in 1992 and moved to San Antonio where I attended UTSA and received my Bachelor's degree in Interdisciplinary Studies. After graduation, I got a job teaching 6th grade in Floresville and taught there for 17 years before moving back to Karnes City. This is now my 24th year teaching and I have taught sixth grade every year except one! I am married to Raymond Robinson who is the principal of Karnes City High School and we have two daughters named Kiera and Jaiden. Kiera is attending Texas A&M in College Station and Jaiden is currently a Junior here at KCHS.

Asynchronous Learners...

Remote learning students need to go to the Karnes City web page at www.kcisd.net. Scroll over "For Students" and click on "Student Links". Scroll down and click on "Clever" and on the next screen, you will select "Log in with Google". If you click on "Blackboard" you'll see that I have uploaded a PowerPoint that will basically walk you through the first week of school. I have also set up a Google Classroom page that I need you to join, so if you go back into Clever and click on Google Classroom, you will see "Mrs. Robinson's 6th grade ELA". You will join my class by entering this code: qufqpq6. I will post the First Week PowerPoint on Blackboard. Once you access it, you may start on the activities, but MAKE SURE TO LOG ON EACH DAY SO THAT YOU GET CREDIT FOR ATTENDANCE. If you have any problems and/or questions, please email me at rlrobinson@kcis.net .
CONFERENCE TIMES:

I have two times listed for conference/asynchronous check in. Please know that if I am unable to return your call or email during that time due to meetings or other parent/student conferences, then I will try my best to get back with you within 24 hours of you contacting me.
MY SCHEDULE:

8:00 - 9:00 1st period: Block A

9:03 - 9:50 2nd period: Block A (continued)

9:53 - 10:40 3rd period: Block B

10:43 - 11:13 LUNCH

11:16 - 12:03 4th period: Conference/Asynchronous check in

12:06 - 1:13 5th period: Block B (continued)

1:16 - 2:02 6th period: Conference/Asynchronous check in

2:05 - 2:51 7th period: Block C

2:54 - 3:40 8th period: Block C (continued)
6TH GRADE ELAR SYLLABUS BY NINE WEEKS

Below is a brief overview of what 6th grade Reading/Language skills the state of Texas requires teachers to cover. Some of these skills may take longer to teach so we might start a skill in one nine weeks but finish it in the next. All of the TEKS that 6th grade ELAR teachers are required to teach are centered on students listening, speaking, reading, writing, and thinking. These skills are set by the state and because we really have a lot to teach each nine weeks, attendance and positive classroom behavior are extremely important.

If you would like more information on what skills your child will be taught this year, you can go to the following website http://www.teksresourcesystem.net/ . Under the blue box, click on the link that says "If you are a Guest or Parent, please click here".

1ST NINE WEEKS:

Unit 1 - Building Foundational Reading and Writing Processes

Unit 2A - Analyzing and Crafting Literary Text: Fiction and Literary/Narrative Nonfiction

2ND NINE WEEKS:

Unit 2B - Analyzing and Crafting Literary Texts: Drama and Poetry

Unit 3 - Analyzing and Crafting Informational Text

3RD NINE WEEKS:

Unit 4 - Analyzing and Crafting Argumentative Texts

Unit 5 - Analyzing Texts Across Genres

4TH NINE WEEKS:

Unit 5 (cont.) - Analyzing Texts Across Genres

Unit 6 - Synthesize! Create! Innovate!