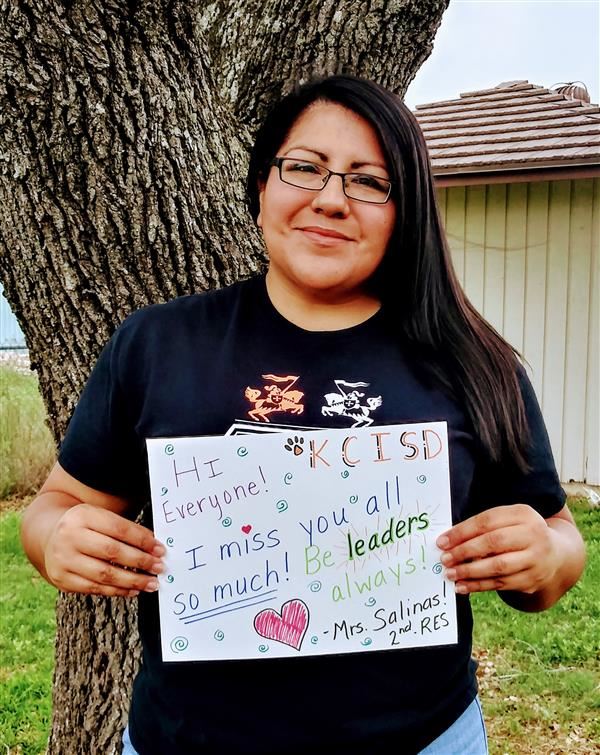 Hello Students,

I wanted to say Hi to you all and let you know that I miss you terribly! I hope that all of you are safe during this strange time. Please help your families by washing your hands and not touching your face, including eyes, nose, and mouth as much as possible so you get rid of dangerous germs.

I know you are all being helpful around the house by playing nicely with your siblings, cleaning up any messes that you see, and practicing your manners.

Be sure to work on the learning packets that were sent or brought home to you. Pace yourselves and complete a few pages each day. Read as much as possible and log in to CLEVER if you are able to. You get to choose whatever you want to work on each day, so get practice in and explore those activities in CLEVER.

I am thinking about all of you each day and wish you the best. Please tell your parents they can contact me through email or Dojo if you have any questions on your school work.

Love,

Mrs. Salinas
Phone:
Email:
Degrees and Certifications:
Bachelor's Degree
Mrs.

Salinas

Hello! My name is Amelda Salinas and I am in my 6th year of teaching elementary students. I am very excited to accompany you on our 2nd grade journey this year! I received my Bachelor's Degree from Lamar University, having also attended the University of Houston and UTSA prior to graduation.

A little about my life: my family spends time outdoors participating in sports, hunting, fishing, and camping. Most of our days are spent supporting my husband who teaches and coaches high school sports. I have two daughters and one son. My favorite hobbies are reading and playing softball.

I look forward to our trip together! Let's get to learning!