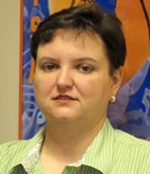 Phone: (830) 780-2321 x. 322
Email:
Degrees and Certifications:
B.A. Criminal Justice (Legal Studies Emphasis) B.A. English (Creative Writing Emphasis) Certified ELA 7-12, Social Studies 7-12, ESL and Sp. Ed.
Ms.

Jodi Lynne Ierien

I was born in Duluth, MN. When I get chilly, I have a tendency to hibernate. I grew up in San Antonio (right across the street from my grandparents), but attended high school in La Vernia. I spent most Saturdays in Seguin, with my great-grandparents. My father is from Duluth, MN and my mom was born in Seguin. They met when he served in the military at Ft. Sam. I have a little brother (he prefers "younger brother" since he is taller than I am) who lives in Lebanon, PA. Thanks to him, I have two terrific nieces. I am an animal lover (yes, even snakes) and currently reside with two cats. My parents' two dogs also claim partial ownership of me.

I earned a B.A. in Criminal Justice from UTSA in 1993. I spent twelve years as a paralegal in Dallas before returning to San Antonio. After two more years as a paralegal, I accepted a job as an insurance adjuster. While working full-time as an adjuster, I returned to school full-time, earning a B.A. in English at UTSA in 2012. I spent a year working in the Writing Center at Our Lady of the Lake before deciding to become a teacher. I taught at East Central HS for a year and then spent two years teaching at Ector Middle School in Odessa before deciding to return to teaching at the high school level. I'm delighted to be at Karnes City High School!

In my spare time, I'm working on an MFA in Creative Writing. I also enjoy hiking, biking, swimming, and ringing handbells. I am proud to be a published author. I am amazed to say I'm a poet, particularly since I didn't like poetry when I was in high school. One of my proudest moments came when a paper I wrote on World War I poetry was published.

I'm looking forward to a fantastic year at KCHS. Go Badgers!
Ms. Ierien's Book List
by Arthur Miller Year Published: 1947

A play which looks at the consequences which occur when the course of justice is perverted.

by Erich Maria Remarque Year Published: 1929

This novel is unusual in that it presents World War I from the point of view of a German soldier.

by Agatha Christie Year Published: 1939

This novel raises the question of when and how justice should be administered. Agatha Christie noted she wrote this novel simply because she wanted to see if it could be done.

by Arthur Miller Year Published: 1949

A play which chronicles the effects of perceived injustice.

by Elie Wiesel Year Published: 1956

A memoir which presents the effects of the Holocaust through the eyes of a survivor.

by Steve Sheinkin Year Published: 2012

This non-fiction selection deals with the appearance of justice in an unjust situation.

Link Library

WW1 Oxford Resources

Maintained by the University of Oxford, this site is the premier online resource for information related to World War I. Many of the items in the collection were donated veterans or their descendants. This site will be an additional resource for our first novel.

The USC Shoah Foundation

In 1993, Steven Spielberg directed the film Schindler's List. During the filming, Spielberg realized that survivors of the Holocaust were dying and their histories were being lost. He moved quickly to establish a foundation dedicated to preserving their oral histories. Originally, it was hoped the foundation might gather 50,000 oral histories. At present, it contains over 60,000 histories. This resource will be utilized to augment two of our texts.

The Purdue Owl

The Purdue Owl is the premier online resource for help with research papers. Examples of several citation systems are available. Our class will focus on the MLA format.